The Real Way to Dakar is a demanding competition that challenges you to go beyond your limits, whether you are an experienced rally driver with passion to do original rally routes, or a more inexperienced rally enthusiast with a desire to explore and challenge yourself. The route will pass through a wide range of terrain – from the breathtaking dunes of the Sahara through camel grass and to the rocky climbs in the Moroccan and Mauritanian mountains.
We offer several different options to participate in the Real Way to Dakar
so all you need to do is to find the vehicle that suits you best. For the Buggy and UTV category we recommend that you bring a vehicle that is made for participating in a rally. Both 2×4 and 4×4 vehicles are welcome.
Before signing up for The Real Way to Dakar we recommend that you consider the following:
Your level of driving skills
We try to make The Real Way to Dakar accessible to as many people as possible, but it is more than 5.000 kilometers in challenging and varied terrain, so we highly recommend that you prepare yourself both mentally and physically.
Your service team and what to expect from them
We do recommend that you sign up with a service team – especially if you are participating in the race category. You can find a list of participating service teams right here.
Your vehicle
Regardless of whether you participate on a bike, a buggy, a car or a truck, your vehicle should be prepared to handle all kinds of rough terrain, from the large dunes of the Sahara desert and to the rocky mountains of southern Morocco. 
Your navigational skills
If you are not used to participating in a GPS-based rally, it might be a good idea to practice this skill. From how to load the track file into your gps to how to navigate a route in unknown terrain using your GPS device.
You have three different options in regards to service teams:
1) Be on your own
If you are on your own, you bring your own tools and spares to work on your vehicle and you'll need to bring your own tent and other equipment with you.
2) Bring your own service team
If you bring your own service team, you need to sign them up for the rally in the service category. They will then be able to supply service for you and your vehicle.
3) Buy service from the one of the registered service teams
You can also choose to buy service from one of the registered service teams. In this case it is important that you get a clear understanding of what the service team will provide in terms of transportation, technical assistance in camp, breakfast etc. so you are sure to sign up with a team that meets your needs. Go here to see a list of serviceteams that will be participating in the rally.
FUEL
You need to carry enough fuel for. minimum 350 km in the terrain. Be aware that if you make any navigational mistakes, you may need more than that. Additionally, each participant must bring at least 2 jerry cans in order to be able to hand in one full jerry can every evening at the briefing, if needed.
SAFETY
Participants in the car and buggy race category must wear ECE 22.05 approved and damage free helmets, race outfit and gloves from stage start to stage finish
Beside the requirements listed in the rules, we also recommend that you carry basic tools for repairs, towing ropes etc. along with food and water for 24 hours for two people.
As we are travelling in some of the most remote areas in north-western Africa, we alternate between camps in existing campsites and wild camps. This means that you need to bring your own tent and sleeping equipment. 
In terms of food, dinner is included in your sign-up fee and we hope that you will join us every night for a community style dinner. You will have to take care of breakfast as well as food and water during the day in the track yourself.
It is important for us that you feel safe doing the Real Way to Dakar from start to finish. You will be given a tracking device that doubles as an alarm to make a request for medical help at any time during the rally if you have critical needs. (Please consult the rules). Every night in camp you may consult them if you have questions or need help.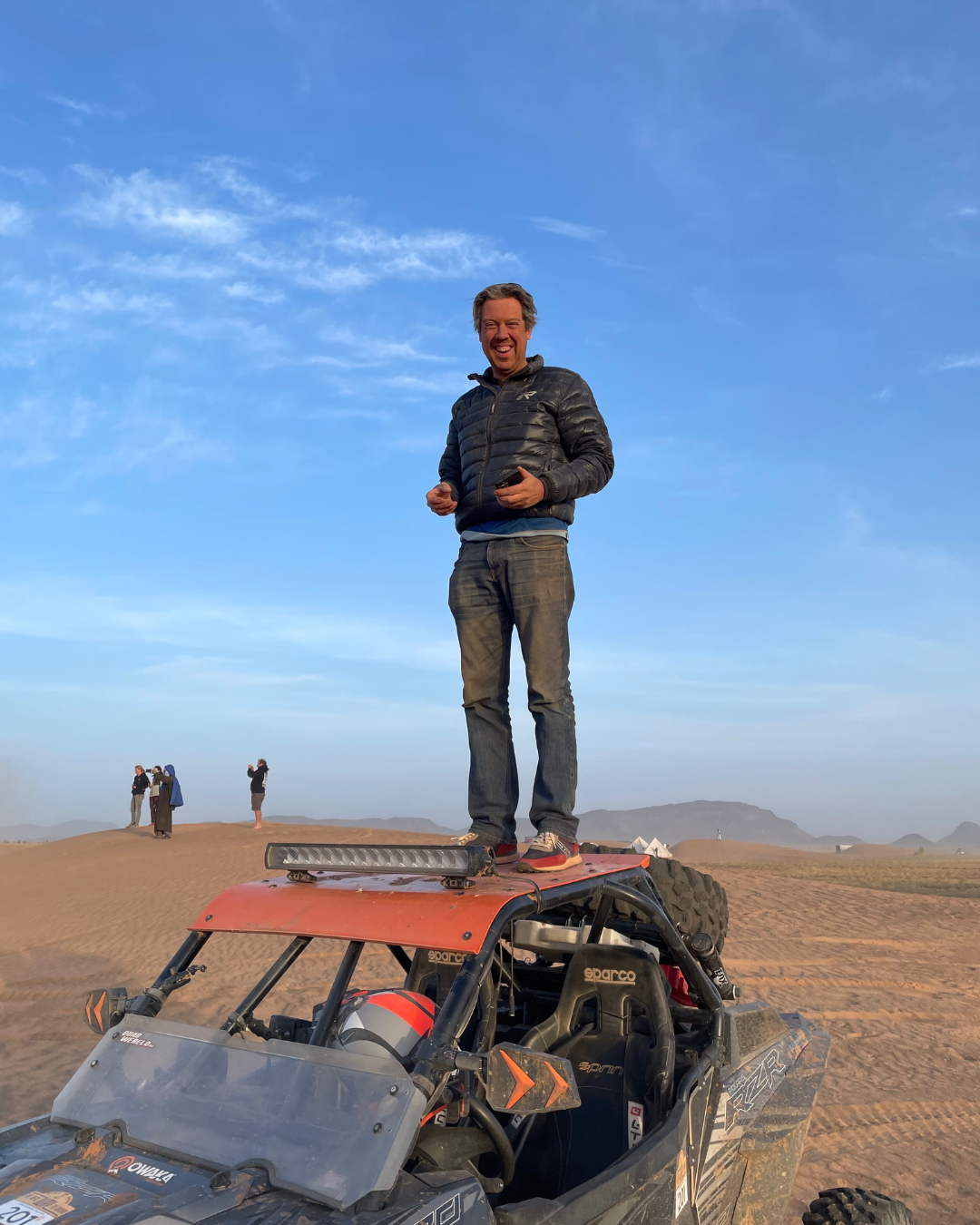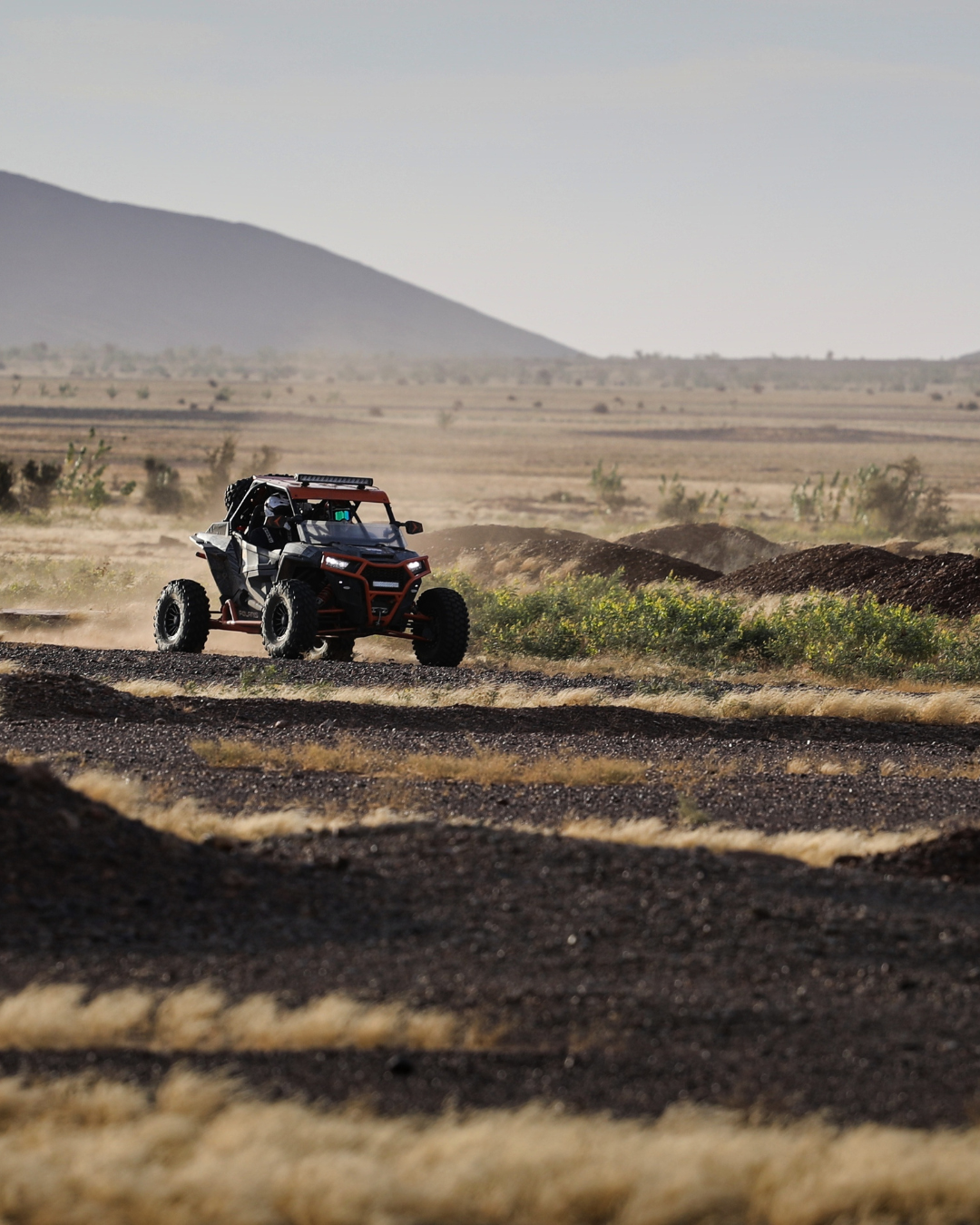 A DAY AS A PARTICIPANT IN THE REAL WAY TO DAKAR
Get up early enough to check your gear and your vehicle, get a proper breakfast (food is never to be missed!) and pack up your camp before leaving for the start line.
Get to the start line in good time before your start time. Sometimes the start line will be just outside camp, sometimes it will be quite the distance from camp. Make sure to plan your morning, that way you are sure to be ready for you starting call.
Whether you choose to navigate the track by yourself or along with a team, be sure to stay alert and drive in accordance to the terrain and your skills.
Arriving at the finish line at the end of a long stage is awesome! Sometimes the finishline will be just outside camp and sometimes you will have to ride an additional distance to reach camp. It's always a good idea to fuel your vehicle on the way to camp.
Arrive at the campsite and find your service vehicle. Get out of your gear, get some water and food and get going on checking over your vehicle and gear so it is ready for tomorrow.
Join the community dinner when it suits you.
Pay attention at the evening briefing! ORG will reveal the stage for the coming day, communicate about fuel stops, speed zones and any other relevant information you need to be aware of. After the briefing ORG will also release the usb-sticks with the route for the next day.
If you are participating in the adventure category, there will be a separate briefing just for this category.
GO TO SLEEP! It may seem important to use hours upon hours on planning your route for the coming day, but please be sure to get some sleep, so you are ready for the challenges of tomorrow.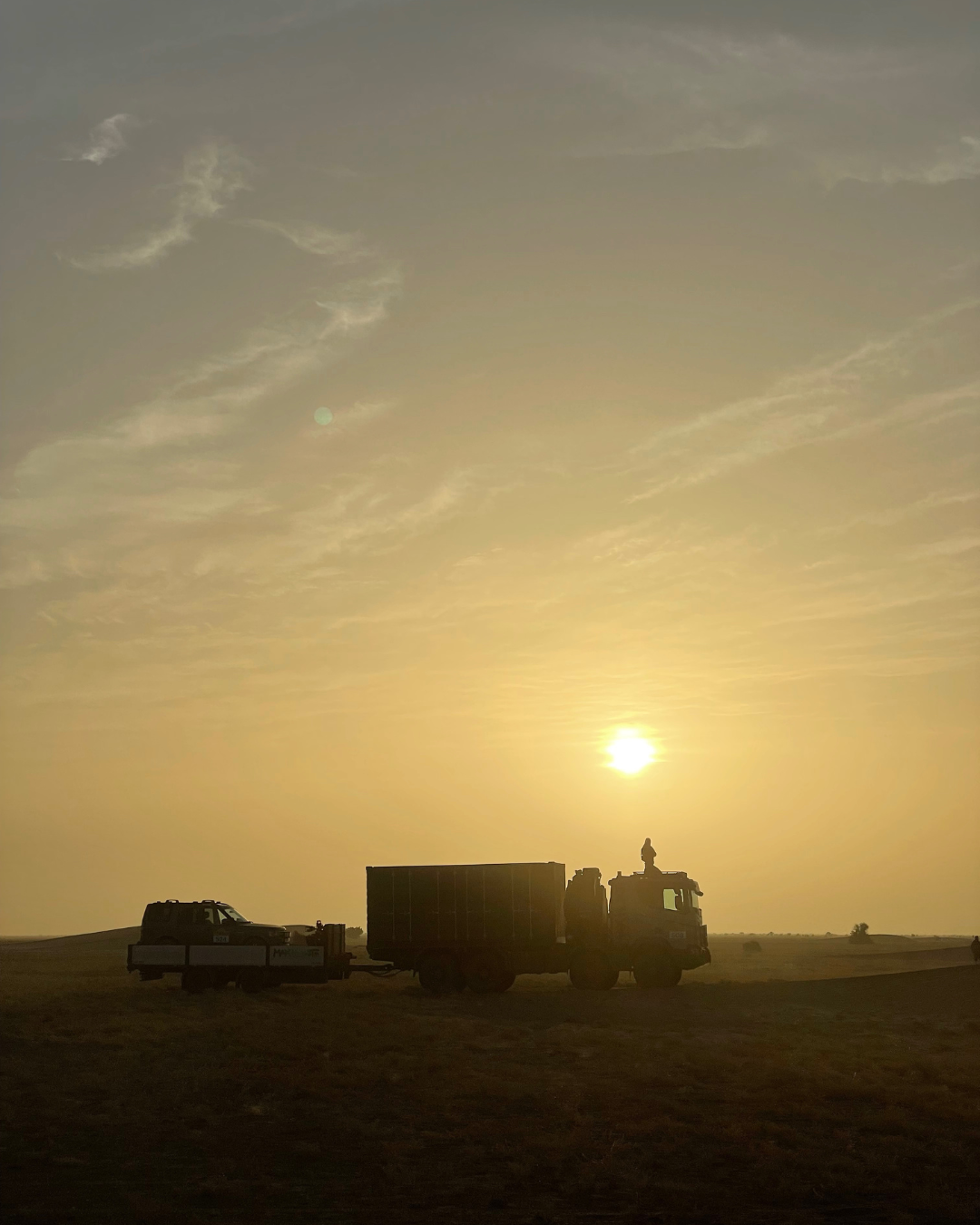 Even though the Real Way to Dakar by Intercontinental Rally is a rally that is open to many different vehicles and motor classes, there are some rules that you must follow if you want to participate. It is important that you read the rules carefully as it is your responsibility to familiarise yourself with the rulebook before we kick off the rally.
Check out our participant info to find answers to other questions
We've tried to make it as easy as possible to find information about the Real Way to Dakar on this website, but if you are left with any questions, please feel free to get in touch and we'll be happy to help you. Get in touch