Prices for participating in The Real Way to Dakar
We have listed all the registration fees and additional costs that you have to take into consideration,
when signing up for The Real Way to Dakar. In 2023 we are introducing a new Lite route, giving you the option of choosing between no less than three different routes (and an extra bonus):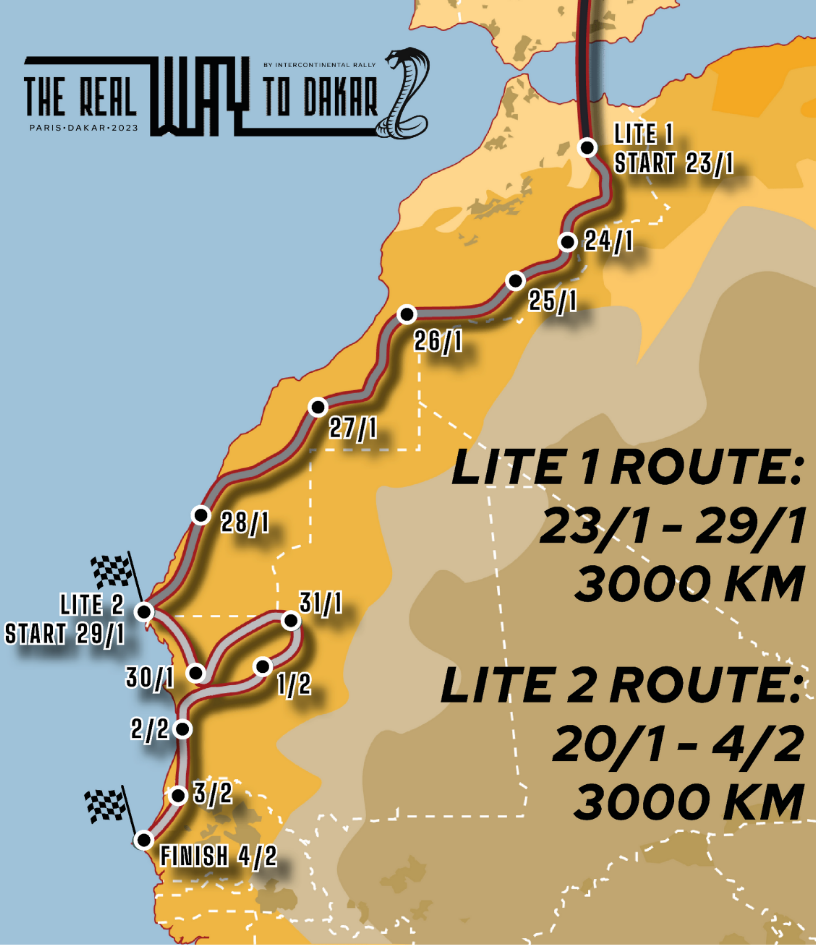 All the way - Mahirija to dakar
Choose between the race or the adventure category, but follow us all the way from Mahirija to Dakar
Dates
SignIn: January 22 2023
Start: January 23 2023
Finish: February 4 2023
Lite 1 - Mahirija to Dakhla
Join the first half of the rally as we conquer the amazing landscapes of Morocco.
Dates
SignIn: January 22 2023
Start: January 23 2023
Finish: February 4 2023
Lite 2 - Dakhla to Dakar
Experience the challenging sand dunes of Mauritania and the iconic beaches of Dakar.
Dates
SignIn: January 28 2023
Start: January 29 2023
Finish: February 4 2023
pre-start in paris
Once again, we are giving participants the option of joining us for a pre-start in Paris, hence completing the iconic route from Paris to Dakar.
Start in Paris: January 19 2023
REGISTRATION FEE FOR 2023 INCLUDES:
Participation in the rally, including your official starting number
Medical assistance by our rally-medics
Breakfast and dinner during the rally
Camping in the official rally camps in Morocco, Mauritania and Senegal
Assistance in border formalities (visa fees are not included)
Organizing of relevant insurances (fees are not included)
Stage itinerary (paper form and as Garmin Mapsource file (.gdb))
Official (and very nice) rally t-shirt
An unforgettable rally experience
ADDITIONAL COSTS
Besides the registration fee, there are other costs that participants should be aware of and take into consideration. Below are listed some of these, though the list may not be complete
FERRY CROSSING
Approximately 550€ for a return ticket between Almeria, in the south of Spain, and Nador (North-Morocco) for 2 persons and a standard 4×4. The crossing of the Mediterranean Sea takes about 7 hours.
FLIGHTS TICKETS
There are daily flights from several destinations in Europe and to Nador. 
Nador is located about 150 km from out first camp where the technical inspections will take place. It is possible to take a local taxi from Nador and to the campsite. 
From Dakar you can find daily flights to several destinations in Europe. 
FUEL PROVISIONS
The fuel price is more or less the same as in Europe. However, there can be quite some distance between gas stations in the countries we pass through. We reccomend that you fill up your vehicle whenever you have the chance.
Every day you will get info at the evening briefing on when and where you can get fuel. In all the countries we pass through you can easily get Diesel but Petrol can some days be difficult. Also, please keep an extra jerrycan with your service team. 
Please be aware that the petrol available isn't always of the same standard as in Europe.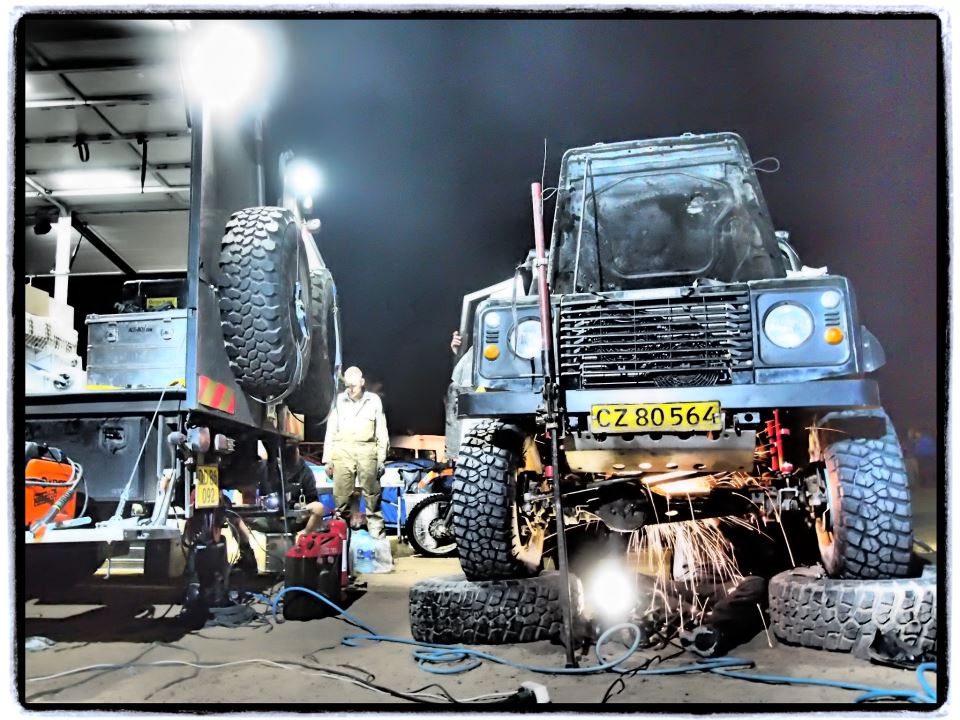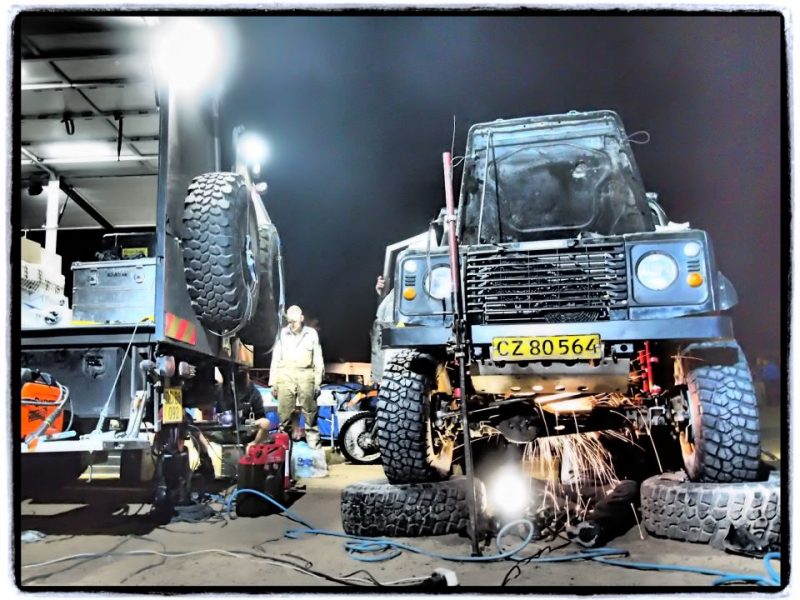 SATELLITE PHONE
It is up to you if you want to bring a satellite phone with you. However, some parts of the rally takes place in areas with no or very limited phone coverage, so we recommend that all vehicles have an iridium satellite phone. 
We will equip you with an GPS tracker where you can contact ORG if you have technical or medical issues. To bring a satellite phone is for extra safety.
GPS UNIT
In your vehicle/MC you must bring one (or more) gps-device(s) loaded with the route. You may also find it helpful to bring some electronic maps loaded on to your device.
The rally route is based on a list of gps-points that are supplied every night at the briefing. You must bring an usb-stick to get the list of waypoints as well as the route for each day. The file is a .gpx file which is a Garmin format, readable in most standard gps-devices
Below you will find some of our amazing ambassadors. They are all previous participants in the rally and will be happy to share their experiences with new participants.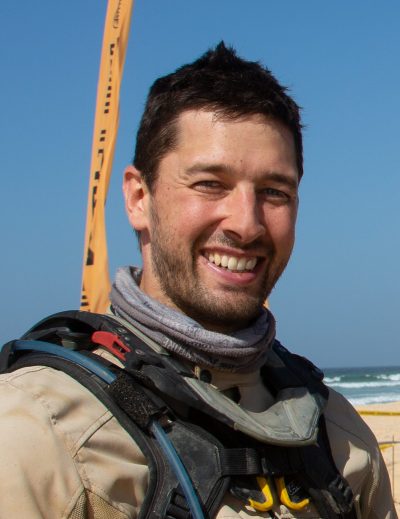 MAXIME METTRA, FRANCE
Maxime joined the 2020 edition of the Real Way to Dakar in the full race category on a Honda CRF1000 Africa Twin.
Mail: metimax@yahoo.fr
Alexandre Azinhais, Portugal
Alexandre also joined the 2020 edition of the Real Way to Dakar in the full race category on a KTM 450 Rally.
Stay in touch! Get news about the rally - and make sure not to miss the next opportunity to join us!
We've tried to make it as easy as possible to find information about the Real Way to Dakar on this website, but if you are left with any questions, please feel free to get in touch and we'll be happy to help you. Get in touch