Ready to participate in
the Real Way to Dakar
in a Car or a Truck?
There are several different options to participate in the Real Way to Dakar
so all you need to do is to find the vehicle that suits you best.
We've collected all the information you need before signing up for the adventure of a lifetime right here.
Participating in a car or a truck in the rally
GENERAL
All types of cars and trucks are allowed to register in the rally. However, we recommend you have at least 4×4.
SAFETY
It is mandatory to wear both seatbelt and a helmet while driving. We also recommend that you build a cage inside your vehicle.
It is mandatory to have a proper race-insurance.
Things you should carry in your vehicle at all times:
3 liters of drinking water per person
GPS tracker (delivered by ORG)
GPS navigation system
Basic tools for small repairs in the field
Basic first aid kit
Spare wheel
Towing rope
Fire extinguisher
Knife within reach of the pilot and co-pilot (to cut safety belts if necessary)
Shovels
2 sand ladders
FUEL
You need to carry enough fuel for approx. 600 km in the terrain. Be aware that if you make any navigational mistakes, you may need more than that.
Be on your own
If you are on your own, you bring and carry your own tools and spares to work on your vehicle and you bring your own tent and food. You will be able to go to local garages in the towns on the route, but inside the camp you are on our own and will not be able to get any support or services from the service teams or the organisers.
Bring your own service team
If you bring your own service team, you need to register them as a service team. They will then be allowed to be in the camp with you, and to supply service for you and your vehicle. The sky is the limit in terms of what kind of service you can demand as it is your crew.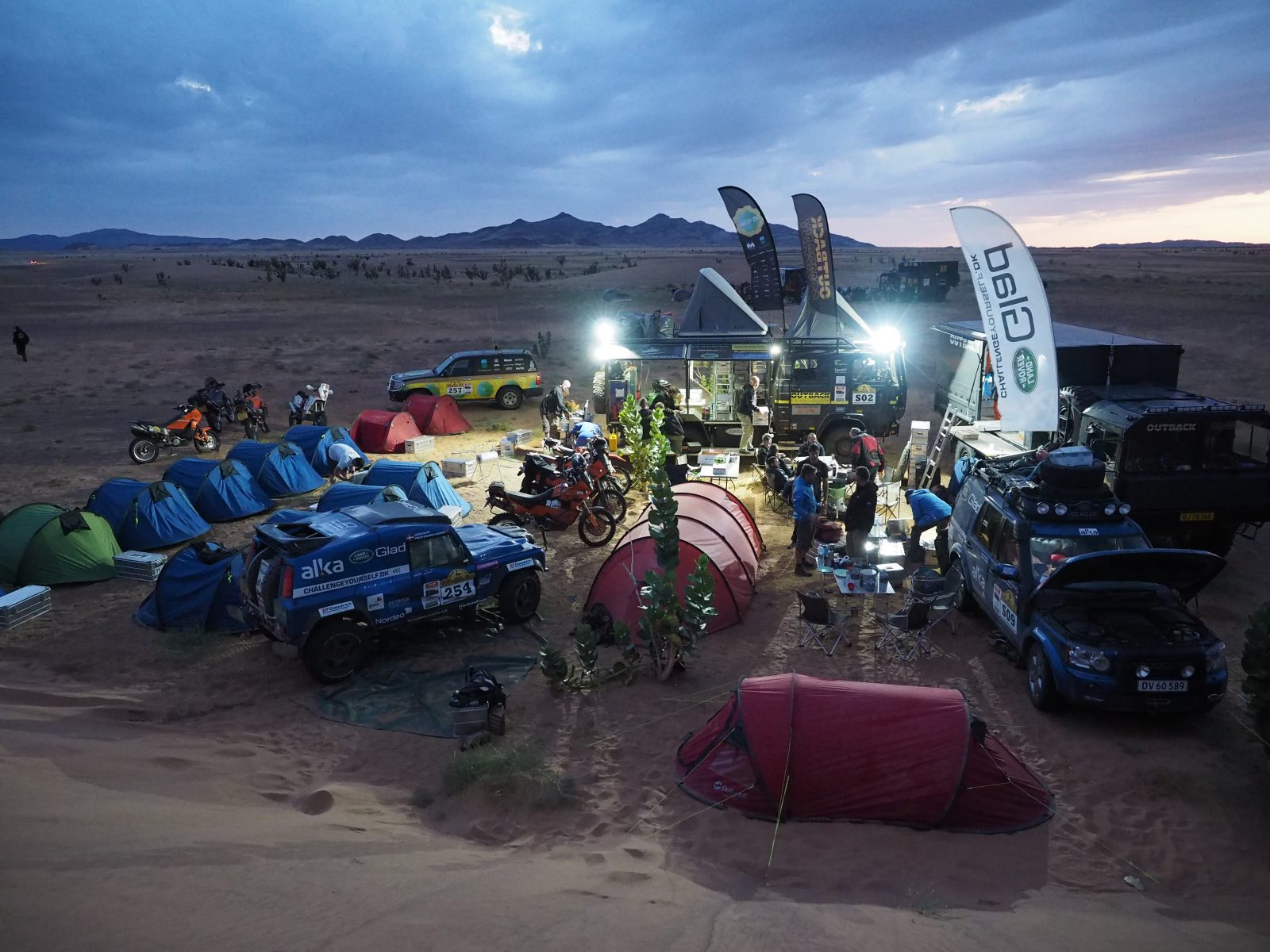 FIND A SERVICE TEAM THAT IS ALREADY PARTICIPATING
We want to support all the awesome service teams, new and old, that make it possible for the participants to complete the Real Way to Dakar every year.
You can find a list of all the service teams that plans to participate, including their contact information. Please reach out to any of them if you are looking for awesome and experienced service providers.
In the 2023 version of the Real Way to Dakar we are introducing a new food programme, as breakfast and dinner will now become a part of your fee when you register for the rally. In the Real Way to Dakar it is important to us to create a sense of community amongst our participants.
Joining the community style dinner will give you a chance to check in with everyone else, to exchange stories of the challenges you've faced during the day and, most importantly, to get a good meal that will keep you going all the way to Dakar.
Our chef Signe Kierulf will make sure to serve good and nurturing food. Signe is a seasoned chef and will provide a community style dinner with good solid dinners like moroccan beef stew, indian dahl and chili con carne. For breakfast there will be bread, condiments and different kinds of cereals.
You will have to take care of food and water during the day in the track.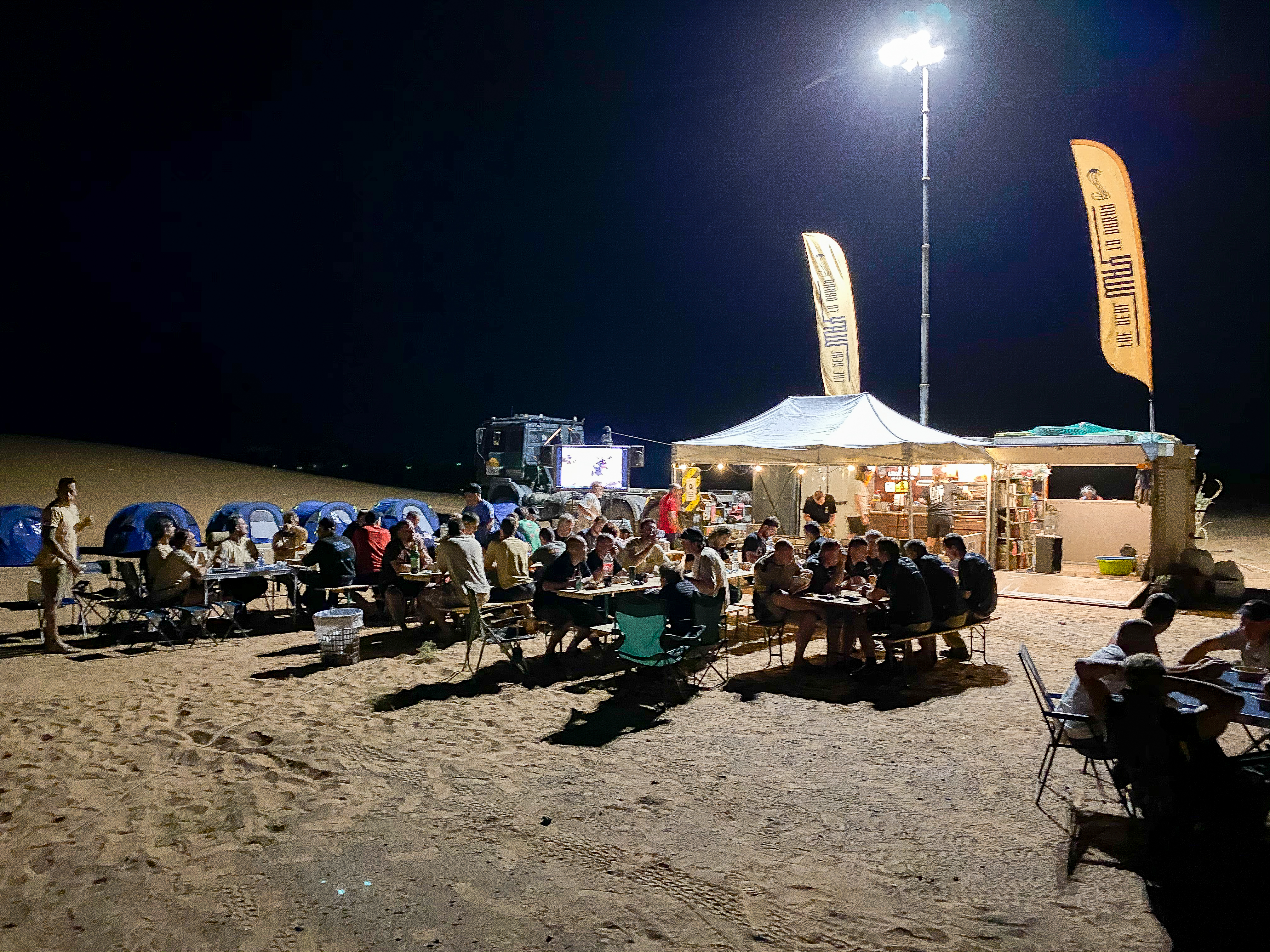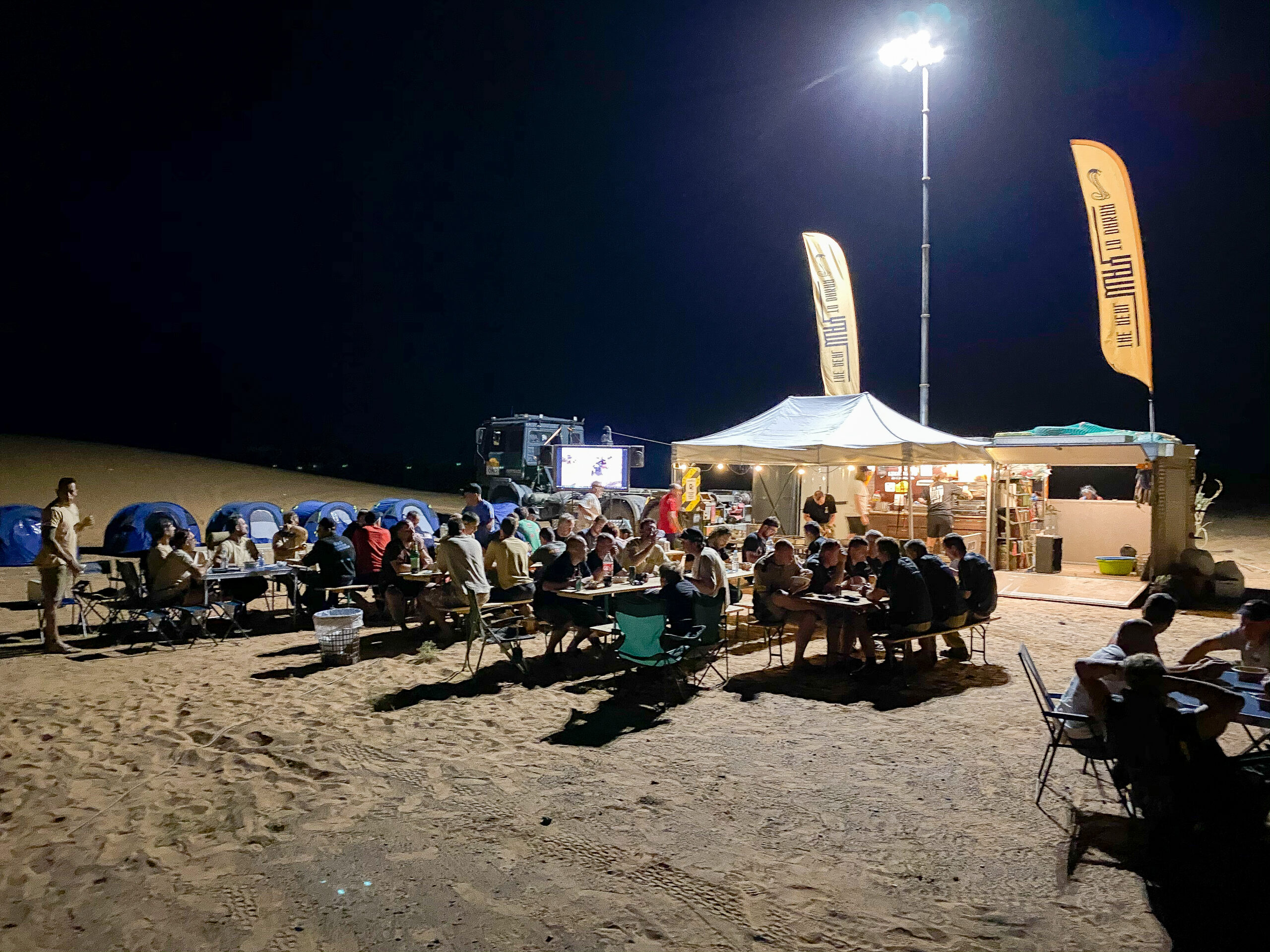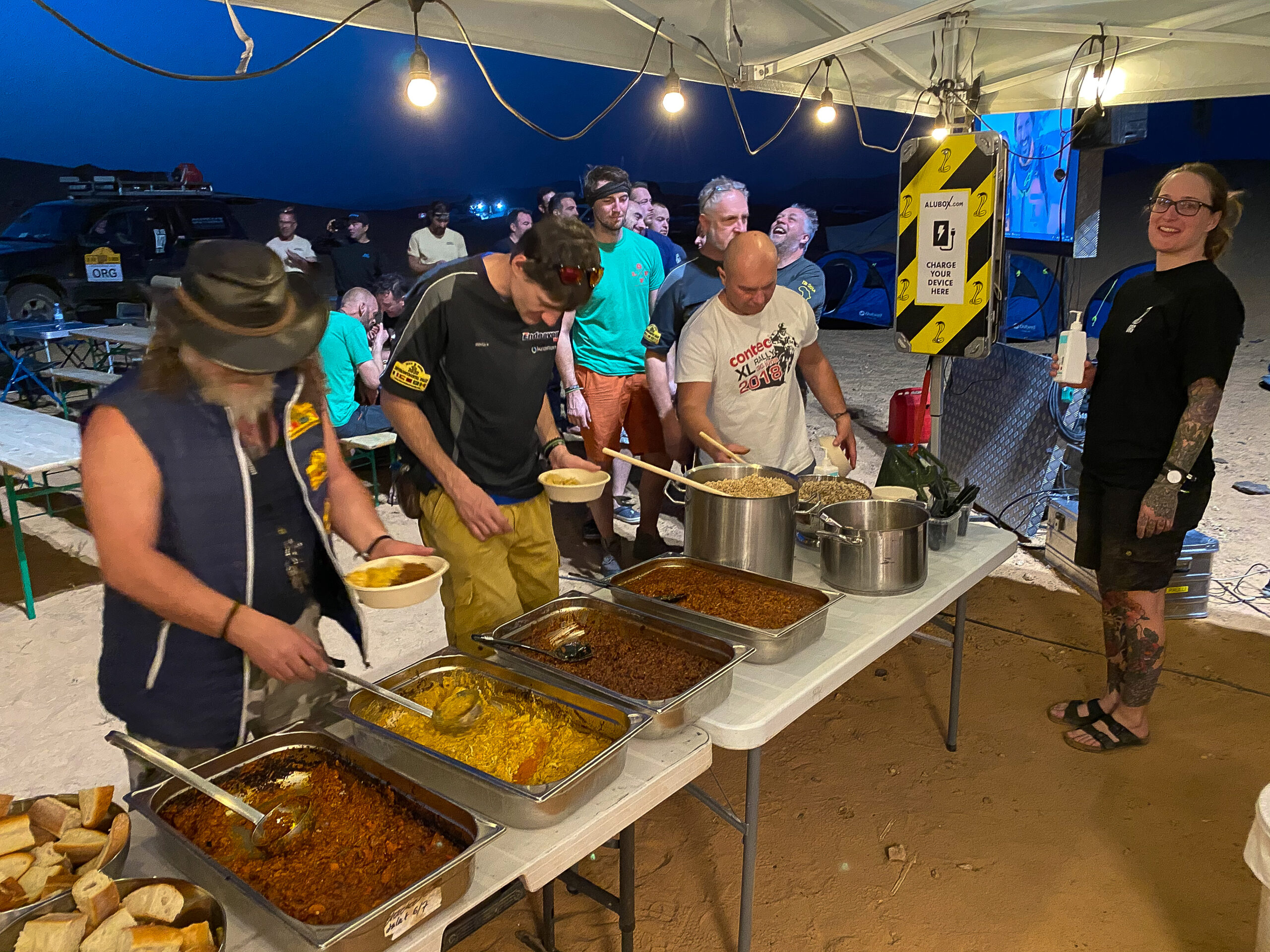 Technical and medical assistance
Technical assistance
In order to receive technical or medical assistance during the rally, the organisation will provide you with a location device (eg. Yellow Brick or Spot).
If you request technical or medical assistance from the organisers you will be relegated to the adventure category, but will  (vehicle and body permitting) be allowed to finish the rally.
You can receive technical assistance from other participants and service teams at any time during the race without penalty.
Medical assistance
In case of medical issues, our medic team operating in the tracks will get to you as soon as possible. If you are not able to continue on your own you will be transported to camp or to a medical facility or hospital for treatment. Our medic team will then resume their support of the other participants on the route.
The Real Way to Dakar doesn't not offer helicopter support to participants, but we work with a very experienced medic team, specialising in rally support. You can learn more about our medic team here.
Check out our faq to find answers to other questions
Categories – how far do you want to go?
There are different options to participate in the Real Way to Dakar by Intercontinental Rally.
Before entering the rally you have to take several things into consideration like vehicle type, budget, support, fitness level etc.
The full race category
The race category gives you the full experience of starting in Morocco and racing all the way to the beach in Dakar. It is a high paced race against both the clock and the other participants.
This adventure will bring you through 6.000 km of spectacular and varied terrain in Morocco, Mauritania and Senegal.
DATES
SignIn: January 22 2023
Start: January 23 2023
Finish: February 4 2023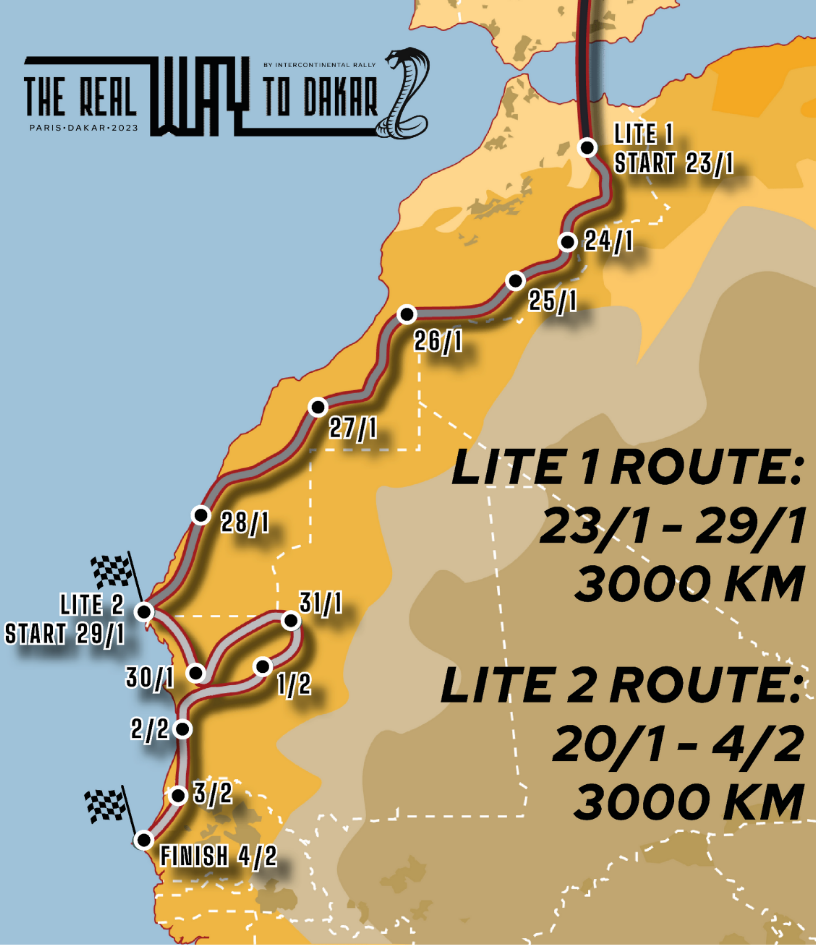 The Lite category – 1 or 2
The lite version of the rally is still a race against the clock and other participants, but only half the distance compared to the full category.
The lite category for 2023 is split in two different options:
1)   Lite 1 starts in Morocco and finishes 3.000 km later in Dahkla, just before entering Mauritania.
DATES: January 23-28 2023
2)   Lite 2 starts in Dahkla, takes you through 3.000 km in the dunes of Mauritania and lets you finish on the the beaches of Dakar.
DATES: January 29 – February 4 2023
This category gives you the experience of the rally but without the full distance.
The Adventure category
The adventure category will give you an experience of what a long-distance rally is all about. Every day we have a route prepared for you that you will follow. The route will take you through the same areas as the Race category but will skip the very hard parts. This means you get the full rally experience – but without the pressure of the clock or the competition.
With help from our adventure coordinator we will advise you on the daily route to give you the best adventure and allow you to test your skills as a rally driver.
DATES
SignIn: January 22 2023
Rally: January 23 – February 4 2023
PRICES INCLUDE 2 PEOPLE
2023 PRICES
MAR 31 2023
AUG 31 2023
OCT 31 2023
FULL RACE CATEGORY
€3.300
€3.800
€4.300
LITE 1 OR 2
RACE CATEGORY
€1.890
€2.170
€2.460
ADVENTURE CATEGORY
€2.640
€3.040
€3.440
+1 PERSON
FULL RACE
€850
€900
€950
+1 PERSON
LITE RACE
€490
€510
€540
+1 PERSON
ADVENTURE
€850
€900
€950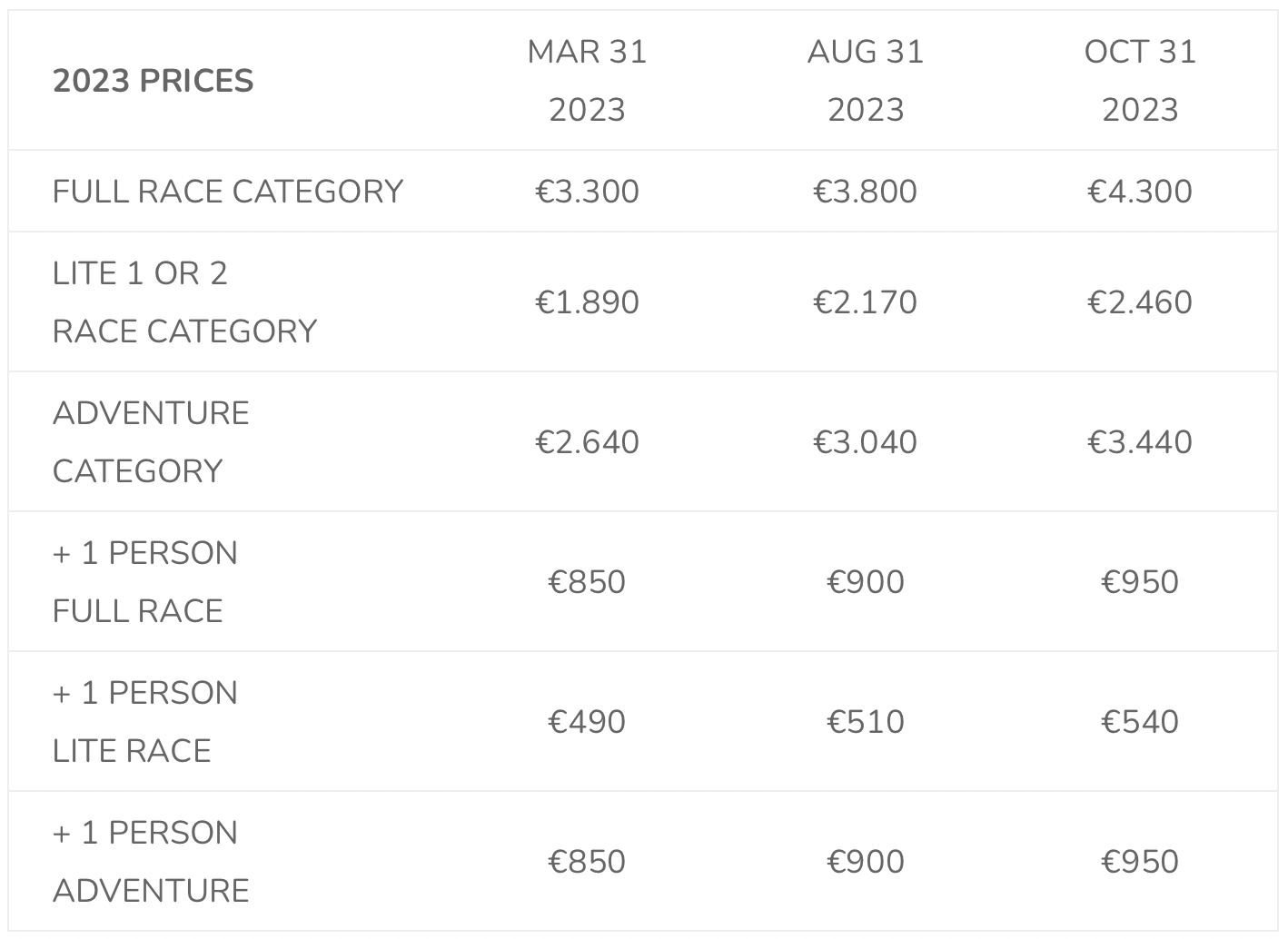 We've tried to make it as easy as possible to find information about the Real Way to Dakar on this website, but if you are left with any questions, please feel free to get in touch and we'll be happy to help you. Get in touch