The Real Way to Dakar is a demanding competition that challenges you to go beyond limits, whether you are an experienced rally driver with passion to do original rally routes, or more inexperienced motor enthusiast with desire to explore.
We are a strong, well organized and helpful community that supports you on this journey. With us, you will pass through some of the most spectacular landscapes in Morocco, Mauritania and Senegal evoking a timeless sense of adventure and exploration. From the endless dunes of the Sahara to the desolate expanses of coastal deserts, the rocky trails of the High Atlas, and the low lying Savannah.
Above all, each day brings new surprises and unexpected challenges. Join us on this adventure.
GOOD TO GO AND READY TO SIGN UP?
You can go directly to the sign up form here. Just choose your vehicle and get started.
NEED TO GET MORE INFORMATION?
We've tried to gather as much relevant information as possible on the website, so have a look around and then come back when you are ready to join us on the adventure of a lifetime!
WHAT TO CONSIDER BEFORE SIGNING UP
Before signing up for The Real Way to Dakar we recommend that you consider the following:
Your level of driving skills
We try to make The Real Way to Dakar accessible to as many people as possible. However, the race is more than 5.000 kilometers in challenging and varied terrain, so we highly recommend that you prepare yourself both mentally and physically.
Your service team and what to expect from them
While you can do the rally on your own with no service team, we do recommend that you sign up with a service team – especially if you are participating in the race category. However, we do have a number of cars in the adventure category that completes the rally with no service team, so it is definitely possible, it just requires a bit more preparation.
Your vehicle
Regardless of whether you participate on a bike, a buggy, a car or a truck, your vehicle should be prepared to handle all kinds of rough terrain, from the large dunes of the Sahara desert and to the rocky mountains of southern Morocco. Please also check any requirements to your vehicle in the rules before signing up.
Your navigational skills
If you are not used to participating in a GPS-based rally, it might be a good idea to practice this skill. From how to load the track file into your gps to how to navigate a route in unknown terrain using your GPS device.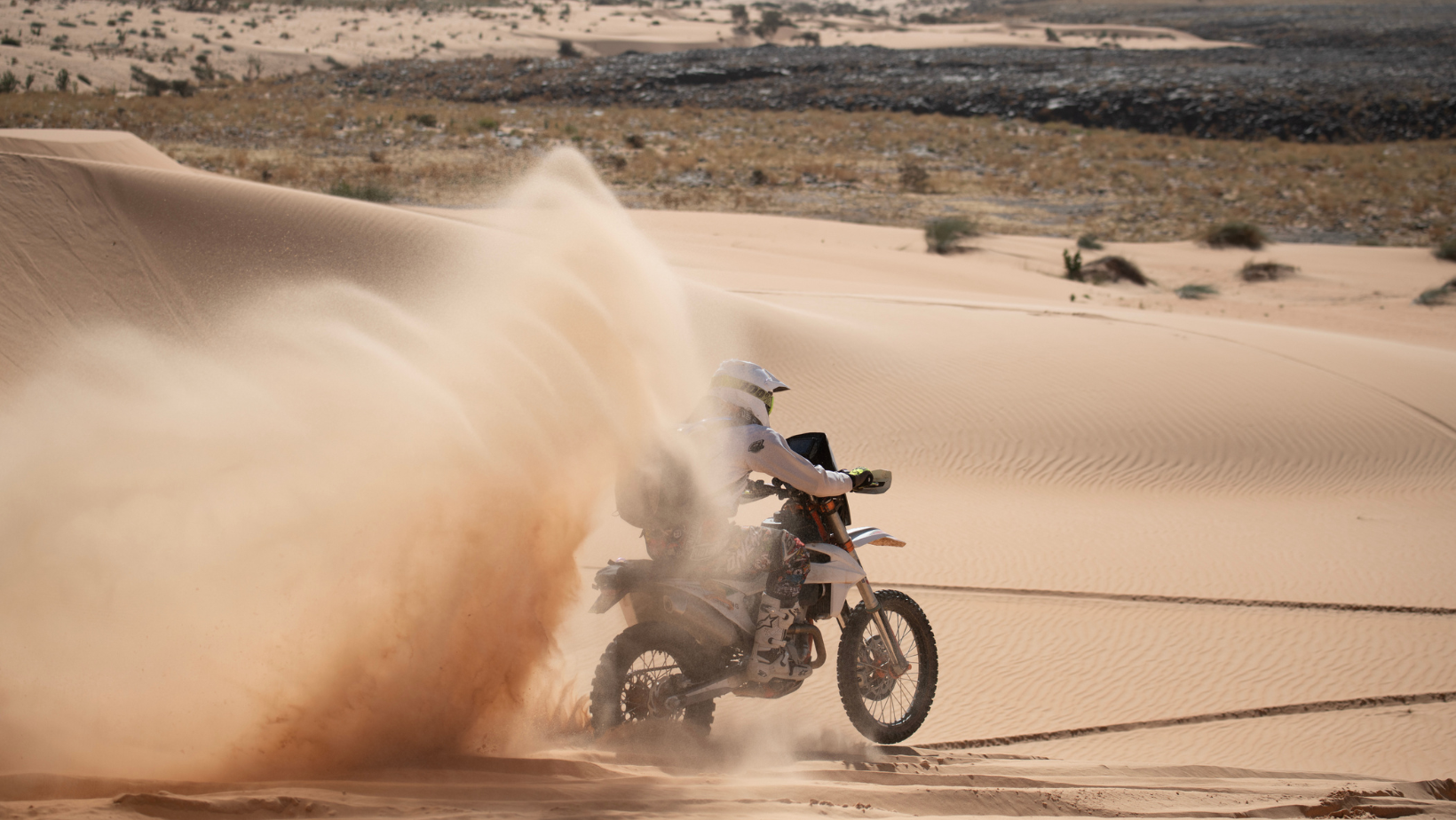 The race category is a challenge for all participants, even the more experienced rally veterans and off-road drivers. Each day will have 1 or 2 off road special sections with timekeeping and with time limits. You will race the entire route. You will have to conform to all the rules of the race and may be subjected to time penalties which will influence your overall ranking. You can participate in the race category with a variety of vehicles and motorclasses. This is the option for everyone who wants the full rally experience.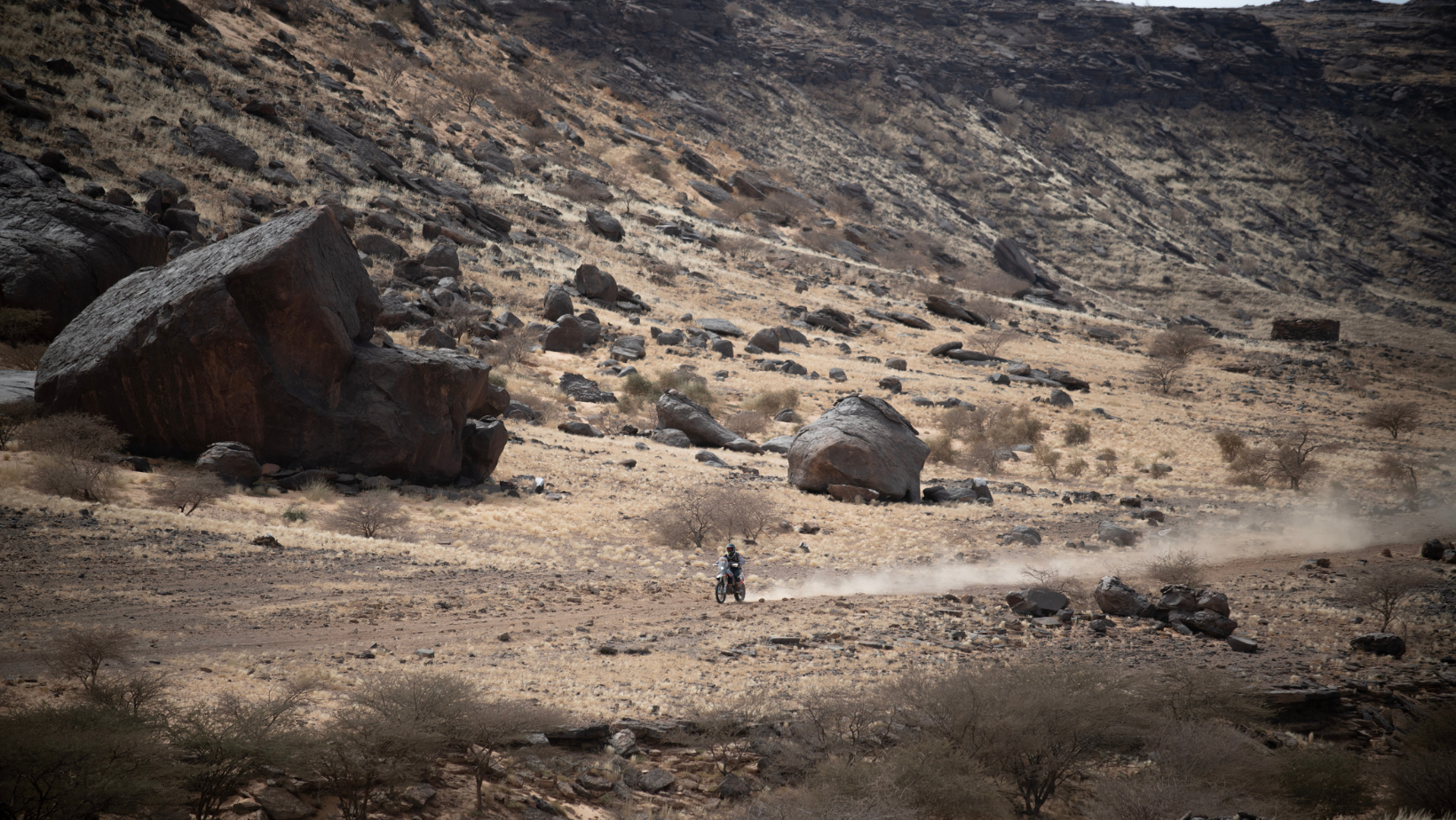 The 
adventure category 
 is an opportunity to participate in the rally in a more relaxed format. You will take part in all aspects of the rally, but you will not be keeping time limits. Furthermore, you are free to skip sections of the race route or maybe even the entire race for a day to just enjoy the landscapes and the towns we travel through. The participants in the adventure category will have a dedicated go-to-person and a special briefing every night.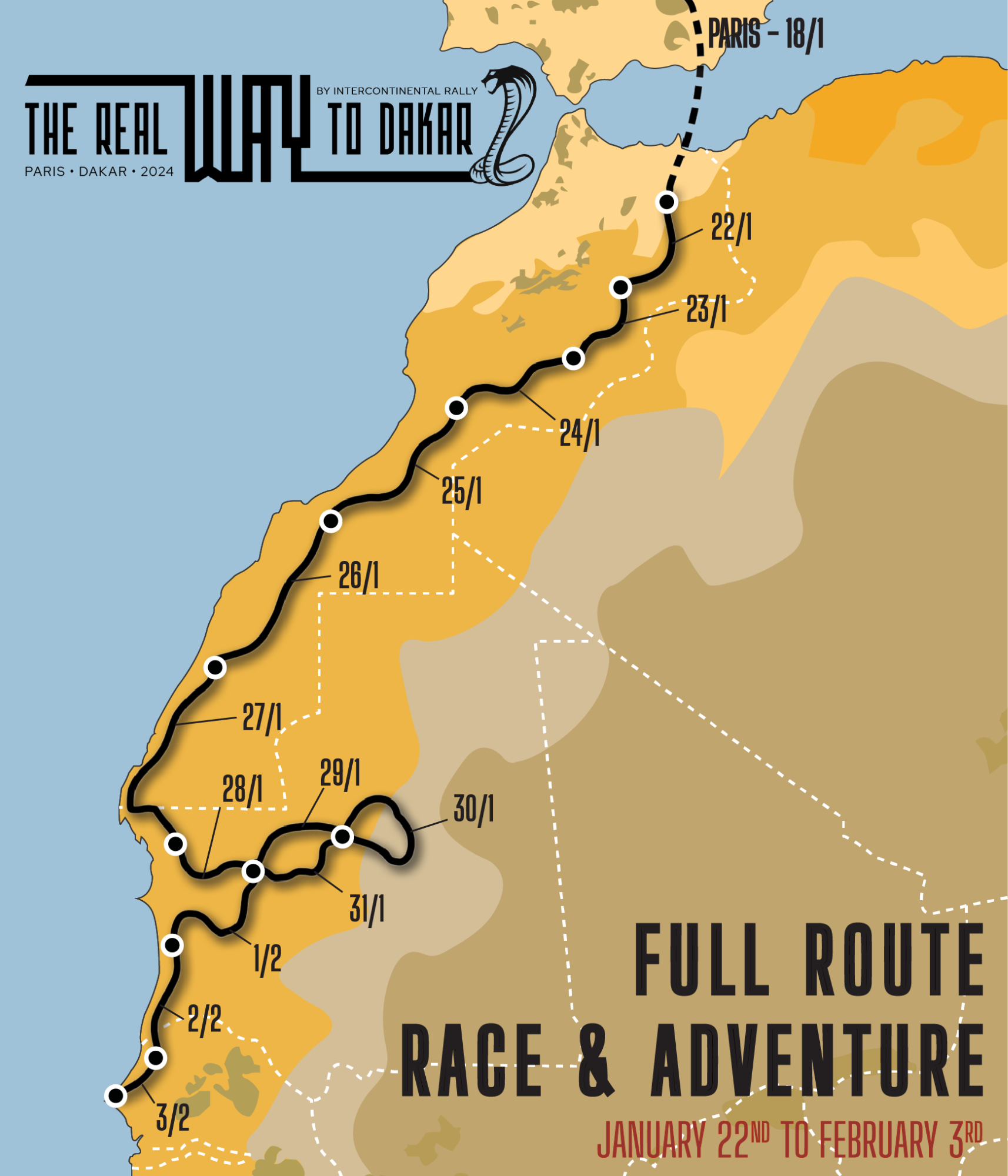 THE FULL ROUTE
The race category gives you the full experience of starting in Morocco and racing all the way to the beach in Dakar. It is a high paced race against both the clock and the other participants.
This adventure will bring you through 5.000 km of spectacular and varied terrain in Morocco, Mauritania and Senegal.
DATES FOR 2024:
Start in Paris (optional): January 18th
Sign In: January 21st
Start: January 22nd
Finish: February 3rd
LITE 1 & 2
The lite version of the rally is still a race against the clock and other participants, but only half the distance compared to the full category
1)   Lite 1 starts in Morocco and finishes in Dahkla, Morocco.
Sign In: January 21st
Start: January 22nd
Finish: January 26th
2)   Lite 2 starts in Dahkla and finish on the the beaches of Dakar.
Sign In: January 26th
Start: January 27th
Finish: February 3rd
Still want more information?
The Rally
Here you will find general information about the rally, what to prepare for, how the day in the life of a participant looks, information on food, camps, gps and much more. 
GOOD TO GO AND READY TO SIGN UP?
You can go directly to the sign up form here. Just choose your vehicle and get started.
We've tried to make it as easy as possible to find information about the Real Way to Dakar on this website, but if you are left with any questions, please feel free to get in touch and we'll be happy to help you. Get in touch