COUNTDOWN TO THE 2024 EDITION
The Real Way to Dakar is an historical based long-distance rally.
With us, it's possible to chase your dream of going through rough, difficult and varying terrain with your vehicle, your team and friends from the rally community.
Whether you are an experienced rally driver or enthusiast without much experience, we offer routes and packages that meets your presumptions.
Accept the challenge to go beyond your limits, discover mythical sceneries, spectacular landscapes, culture and make friends for life.
Make your dream come true – join us for a life changing experience.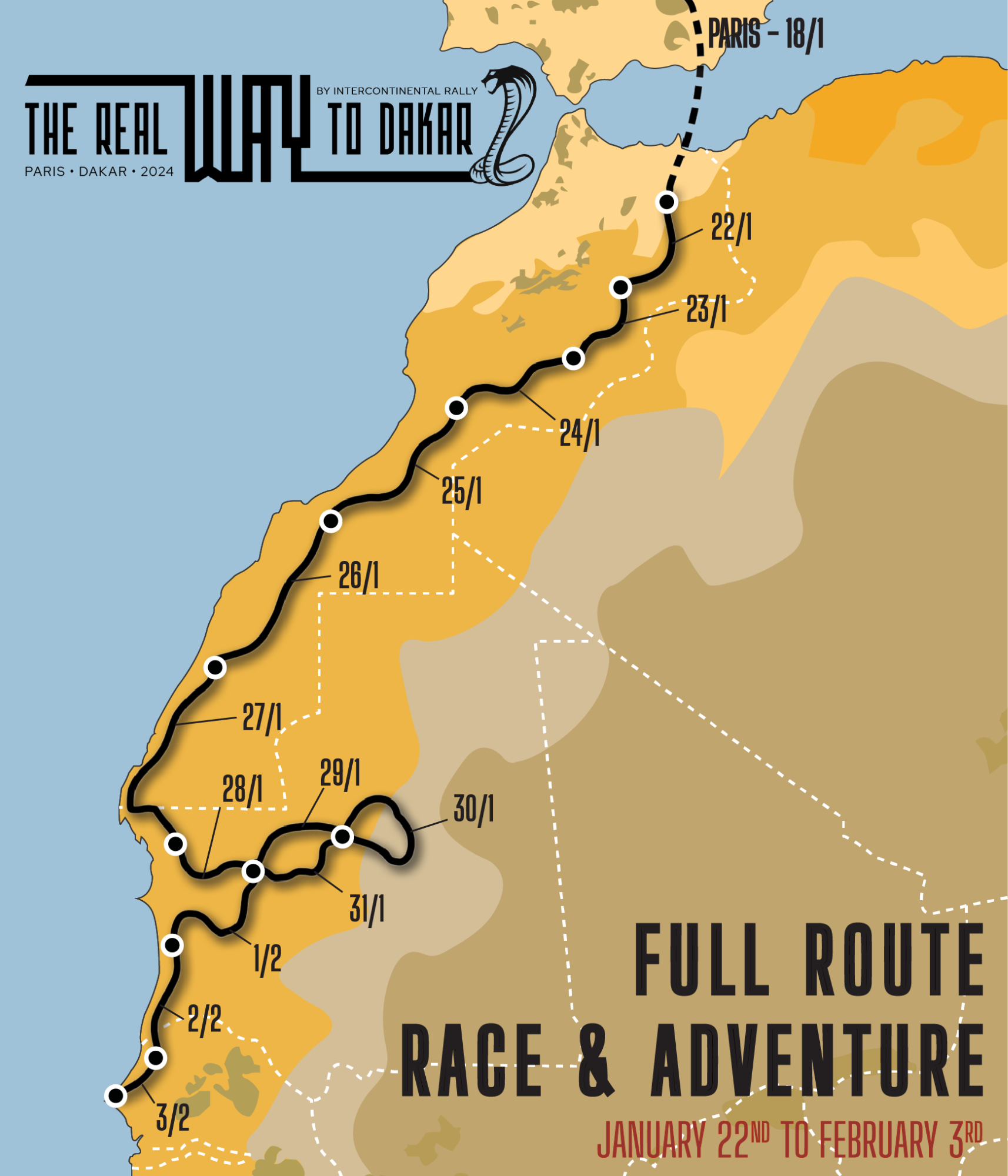 The Real Way to Dakar will once again return to the legendary routes through Morocco, Mauritania and Senegal in 2024. The rally will start in Northern Morocco on January 22nd (with technical inspections on January 21st) and make its way through more than 5.000 km of varied terrain challenging every part of our participant's driving skills, before ending on the shores of Lac Rose in Dakar.
Once again we will offer our participants the option of a 'soft-start' in Paris, giving them the possibility of getting the experience of driving from Paris to Dakar.
The Real Way to Dakar 2023
ABOUT THE REAL WAY TO DAKAR
The Real Way to Dakar is a demanding competition that challenges you to go beyond limits, whether you are an experienced rally driver with passion to do original rally routes, or more inexperienced motor enthusiast with desire to explore.
We are a strong, well organised and helpful community that supports you on this journey. With us, you will pass through some of the most spectacular landscapes in Morocco, Mauritania and Senegal evoking a timeless sense of adventure and exploration. From the endless dunes of the Sahara to the desolate expanses of coastal deserts, the rocky trails of the High Atlas, and the low lying Savannah.
Above all, each day brings new surprises and unexpected challenges.

WANT TO KNOW MORE ABOUT PARTICIPATING?
We've tried to gather the most relevant information on the website to prepare you for participating in the rally. You can read about what to be prepared for, how a day as a participant in The Real Way to Dakar looks and much more right here.
THE RALLY
Here you will find general information about the rally, what to prepare for, how the day in the life of a participant looks, information on food, camps, gps and much more. 
We've tried to make it as easy as possible to find information about the Real Way to Dakar on this website, but if you are left with any questions, please feel free to get in touch and we'll be happy to help you. Get in touch